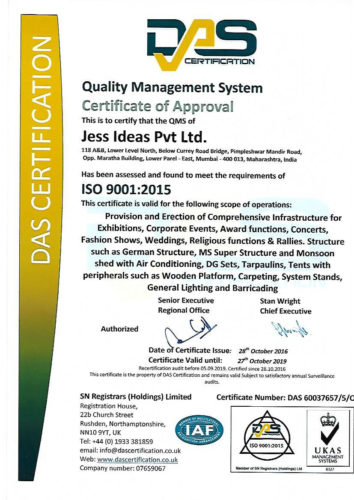 ISO-Certified – Jess Ideas Pvt. Ltd.
Jess Ideas Pvt. Ltd. is certified for ISO 9001:2015 international quality standards for management systems.
Our DAS Certification for ISO 9001:2015 justifies our successful quest of high quality service excellence. We are the only North American transportation provider whose entire distribution network and management systems meet these stringent international quality standards.
Provision and Erection of Comprehensive Infrastructure for Exhibitions,Corporate Events, Award function, Concerts, Fahsion Shows, Weddings, Religious functions & Rallies. Structure such as German Structure,MS Super Structure and Monsoon shed with Air Conditioning, DG Sets, Tarpaulins, Tents with peripherals such as Wooden Platform, Carpeting,System Stands General Lighting and Barricading.